The Bennetts Monthly April '19
Wednesday 10 April 2019
by

All things Bennetts & Coffee...
Industry news
Global coffee prices continued to fall during the course of March (and into early April) for both the Arabica and Robusta markets. The New York "C" front month price found a new low of just over 91 US cents/lb, the lowest level since late 2005. Robusta prices also saw new short term lows of around 1450 USD/MT, but there is still a fair bit more to travel south in order to break through the more recent lows of low 1300s from early 2016.
On a fundamental level, the situation is still pretty much unchanged. There is a lot of unsold coffee in Brazil, which combined with a weak local currency, means there is very little upside in US Dollar terms. The Brazilian robusta (aka conilon) harvest is just around the corner and will be followed closely by the arabica harvest. This will result in higher selling pressure as coffee farmers will inevitably need to generate cash in order to pay pickers and other service providers once the gears start turning for yet another harvest season in the world's largest arabica and second-largest robusta producer.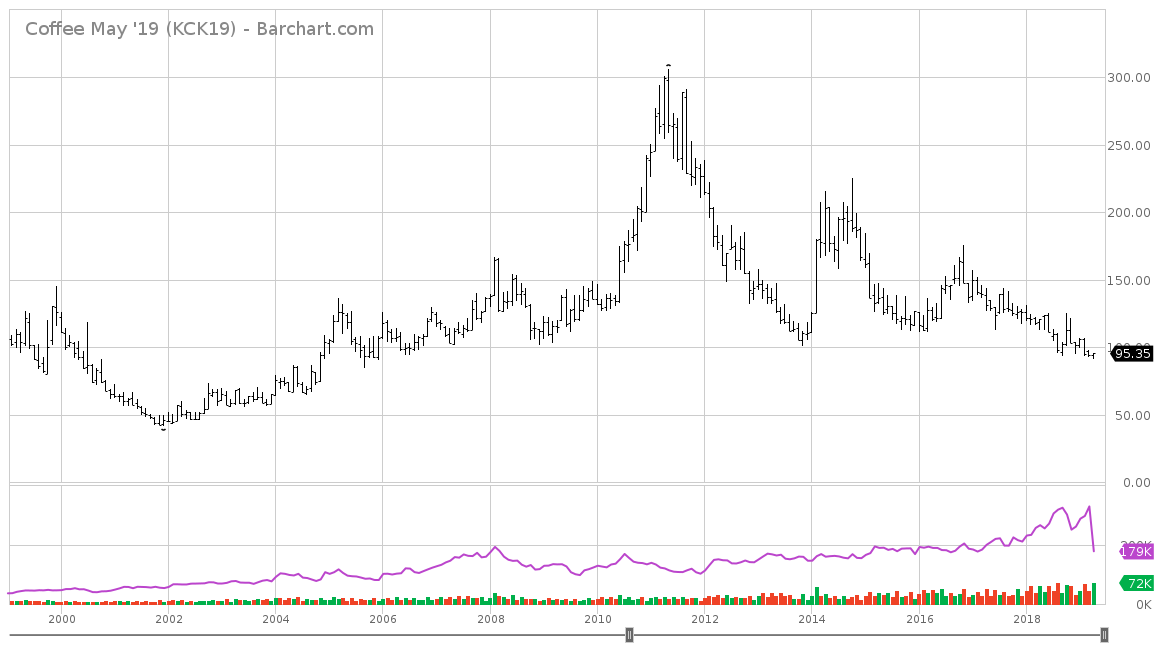 It all makes for bleak reading (especially if you're a coffee farmer), but there are some signs that producers and their representatives are looking to fight back against historically low prices. First, the Colombian Coffee Farmers Federation announced they would start paying farmers a base price for cherry equivalent to 145 usc/lb, which aims to provide producers with a more profitable price for their coffee. This was followed by a statement in late March at the World Coffee Producers Forum in Nairobi, Kenya. This letter, co-signed by a number of coffee farmer associations and industry groups, denounced the New York "C" as being an inadequate price discovery mechanism for the coffee market as it does not take into account cost of production, and consequently perpetuates the cycle of poverty for the over 25 million coffee-producing families across the world (most of which are smallholders). What will come of this only time will tell. However, it will take a concerted effort from all stakeholders in order to affect any change in this arena.
A word from the cupping room.
The year is flying by and last month QA Manager Georgia together with SA and VIC Account Manager Marco, visited our key suppliers in Honduras and Costa Rica.
You can read about their travels in Costa Rica
here
.
Now back in the QA room and cupping up a storm, recently we have seen some great new season Brazil lots come through, in particular our Mogiana types have been super sweet and nutty.
Also recently landed is our FLO-Fairtrade RFA Organic Peru SHB (Sol & Cafe) – Boasting a malt biscuit and almond aroma. The cup is sweet and juicy with apricot and blackcurrant fruit and acidity. Clean body carries an almond and malt finish.
Sourced from Cooperative de Seviceios Sol & Café Ltd a first-tier cooperative in Peru with 1054 producing members, covering 56 social communities. These groups have united voluntarily to meet their needs and economic aspirations, through an organisation jointly owned and democratically controlled. The Cooperative was established in 2008 and covers the provinces of Jaen and San Ignacio in Cajamarca, in northeast Peru. Coffee is cultivated at elevations of 900 - 2050 MASL on gentle slopes. The average farm size in 2.62 hectares. Farmers deliver cherry to the cooperative washing station on a daily basis and the coffee is pulped on the same day. After pulping, the coffee is fermented in tanks for 12 hours and then washed with clean water. The parchment is dried on raised beds under a solar tent. The Cooperative offer quality control, certification and ongoing training to farmers on business management and cultural practices of the farms.
Coffee of the month!
Our El Salvador Los Luchadores Pacamara not only has a great looking sack, but also packs a punch in the cup.
Sweet creamy notes up front. Clean stone fruit acidity. And a sticky coating mouthfeel carries a vanilla and dark chocolate finish. Scoring 84 points, it's a winner coffee.
This Pacamara comes from the family-owned business JASAL with more than 100 years of experience in cultivating, processing and exporting some of El Salvador's finest coffees.
Their main activities are concentrated in the Apaneca-IIamatepec region which is known for its fantastic soils, micro climates and is the perfect environment for coffee cultivation.
This particular coffee was grown at their 'El Molina de Santa Rita' estate in the Ahuachapán department, in western El Salvador. All coffees are processed at their mill "Las Cruces" which is considered to be one of the oldest processing centres in El Salvador. The mill is more than 100 years old and local historians claim that Che Guevara hid in the mill during his journey through Latin America!
For samples please contact your account manager.
Enjoy the month of April,
The Bennetts Team.