New Arrivals: Brazilian natural microlots have landed!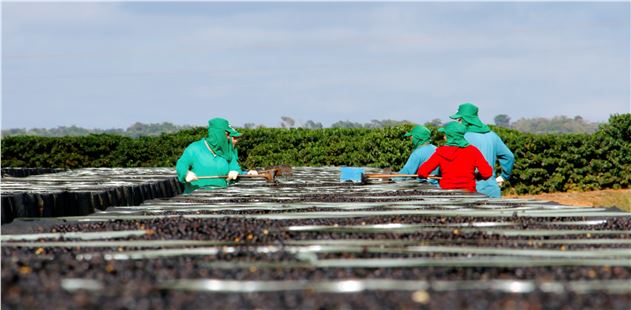 Our Brazillian natural microlots have landed and are a testament to the increased concern for quality and specialty coffee in Brazil.
The rolling hills of Minas Gerais in Brazil provide some of the best coffee growing climates in the world. Known for the extensive production of coffee in the region, several farms are morphing from a commodity driven crop to specialty.
Luckily enough, we have acquired a selection of microlots from Cooperativa Agropecuária do Alto Paranaíba (COOPADAP), Fazenda Barinas and Fazenda Santa-Rita. Check out their story below and more details here … http://bit.ly/2qu376rc
Alto Paranaiba COOPADAP - Natural
Grown at an altitude of over 1,100 metres above sea level, this natural was processed at the experimental station of the (COOPADAP) located in Alto, Paranaíba, Minas Gerais. The Cooperative headquarters are located in the town of São Gotardo, where the facilities are employed to assist the members in their work growing high-quality coffee. They provide access to research, new technology, safety consultations and agricultural information. The 22 hectares are closely supervised with the most modern techniques in order to increase coffee quality. Aside from coffee, COOPADAP also produce avocados (sadly we couldn't get our hands on any of these).
Bennetts Internal Score: 83.5
60Kg Bags Available: 7
Vargem Grande COOPADAP - Natural

Edson Hiroaki Tamekuni and his two brothers manage the Vargem Grande Farm which they purchased in 2016. Together the brothers are proud to share several cooperative awards for their hard work on the farm, including first place in their 2017 coffee contest. Located in Campos Altos, Minas Gerais, Vargem Grande Farm has 100 hectares dedicated to coffee plantation which it is its primary crop.
Bennetts Internal Score: 85.5
60Kg Bags Available: 11
Fazenda Barinas Yellow Bourbon - Natural

The history of Barinas Farm and the Alves family whom own it goes back seven generations to the 19th century and is now headed by Márcio Borges Castro Alves and his son Tiago. Barinas Farm is located in the town of Araxá, Minas Gerais. They have a state-of-the-art laboratory with the latest equipment and a highly capable team. The farm has received several awards and gained recognition in 2016 as a finalist as a "Sustainable Farm" in a famous TV program, Globo Rural.
Bennetts Internal Score: 83.5
60Kg Bags Available: 14
Fazenda Santa Rita Yellow Bourbon - Natural

Guima Café is the name for the coffee produced at Santa Rita Farm, located in Varjão, Minas Gerais. In 2007 the family patriarch, Flávio Pentagna Guimarães, decided to switch from a commodity coffee production strategy to specialty coffee. The group has received recognition for their ongoing performance in environmental preservation and in social development, with projects aimed towards improving worker wellbeing and the neighbouring communities. Due to the climate, there is a special concern regarding water resources. The farm takes great care not to overuse water; "Our region is a little hotter and drier than the others, so careful use of water is fundamental", says Mariana Caetano, a member of the team. This natural is hand-picked and dried on raised patios before hulling.
Bennetts Internal Score: 82.75
60Kg Bags Available: 20
Contact us at trading@hab.com.au or call us on (03) 9853 0328 for more information.