The Bennetts Monthly June '19

All things Bennetts & Coffee...
Industry news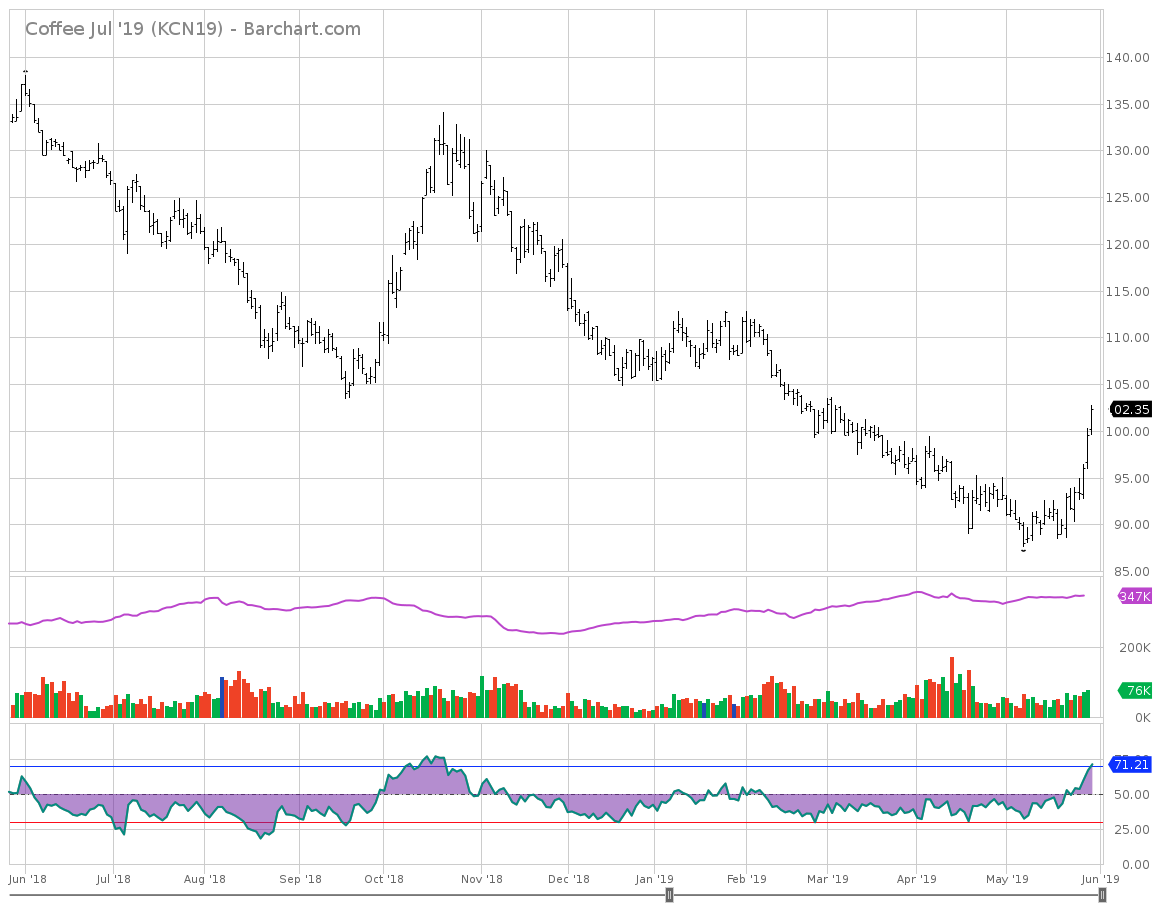 The end of May brought some last minute respite to coffee farmers across the globe as prices for futures experienced a late month surge to levels not seen since early March and early April for both Arabica and Robusta markets, respectively.
At the time of writing, the Arabica front-month futures price had closed at 102.35 usc/lb on the New York Futures Exchange (almost 10% higher month on month!). The reasons behind the sudden bull run in the "C" market has mainly been weather and currency-related.
A few cold fronts around Parana and Sao Paulo (which are not part of the main coffee-growing areas in Brazil), along with a forecast for heavy rainfall in Minas Gerais were enough to send traders, who were holding a record short position, into a buying frenzy during the last week of May. It should be mentioned we are also going into the high risk of frost months now (an increasingly rare occurrence these days), which could spark some more weather-related buying.
On the currency side of things, the Brazilian Real has been incredibly volatile and devalued to a recent low of 3.92 Reais per US dollar. A stronger Real means you need more dollars to pay for coffee in Brazil, and as Brazil produces half the world's arabica coffee has a direct effect on USD pricing on a global scale.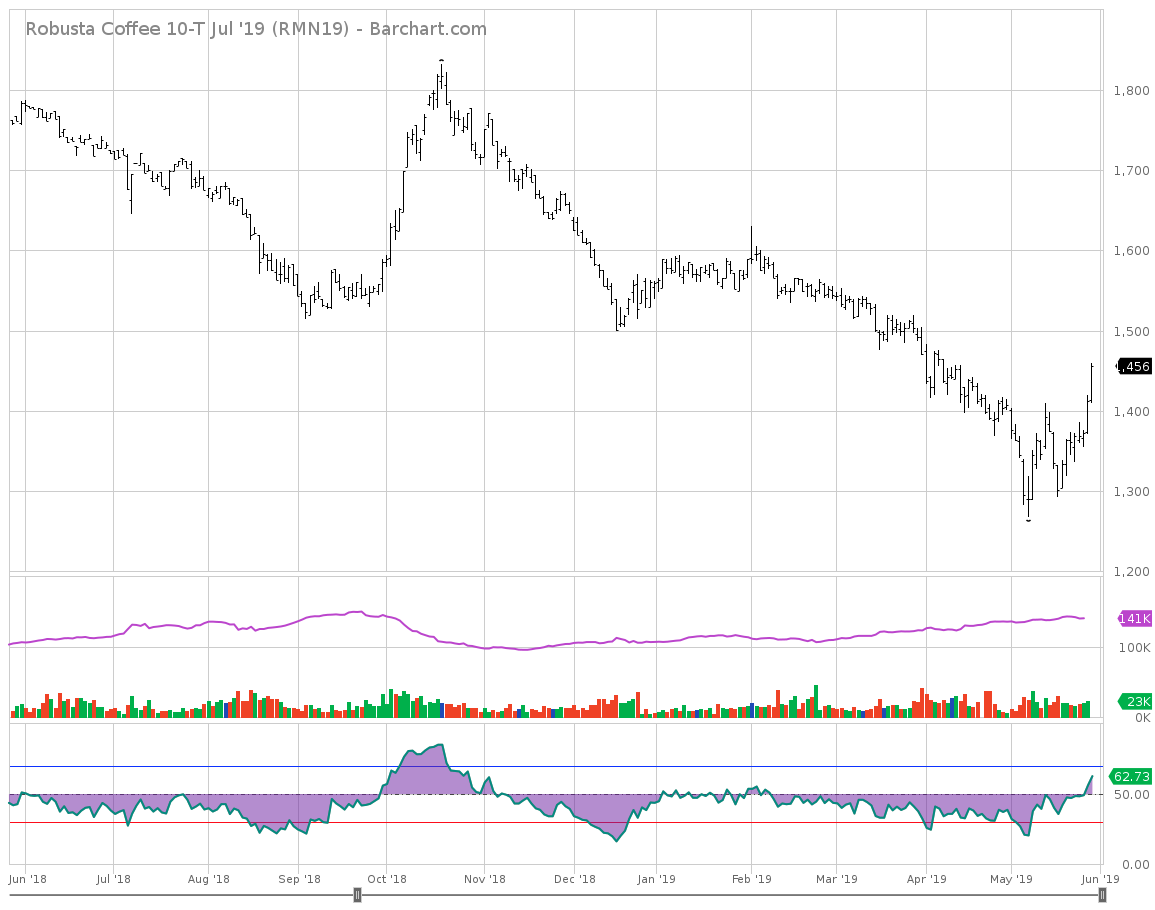 Robusta prices also surged during the last week of May closing at $1,456 USD/T, after bottoming out just under $1,300 USD/T earlier in the month, mostly on the back of the Arabica price surge but also partially as a result of lower Robusta exports out of Vietnam which were down 13% year on year for the Jan to May period.
Whatever the reasons, the recent price relief should be a welcome change for farmers across the coffee-producing regions of the world. Whether the trend continues or not will most likely be in the hands of Mother Nature.
On a related note, our Managing Director Scott Bennett will be travelling to Brazil next week so our next newsletter will have a good first-hand account of how things are developing there during the harvest period.


A word from the cupping room
As we roll into winter down south, the coffee season starts to hit its peak.
We recently landed the last few batches of Brazil premium and microlots for the year and are now turning our focus to Asia and Central America.
If you joined us last week at our cupping night in Perth, you would have had an exclusive first look at our new season Indian Kelagur Heights Estate microlots.
The Kelagur Heights Coffee and Tea Estate have been owned by the Mathias Family for the past four generations. It is located in the first range of the Western Ghats in the Chikmagular District of Karnataka State. Spread over 120 hectares, Kelagur Heights Estate harvest up to 150 tonnes annually of some of the finest Arabica and Robusta coffee beans each season. With Arabica, the main varietals are S 795 and Selection 9. With Robusta, it is a mix of old Robusta and S 274 which grows at lower elevations. Their coffee grows under a mixed canopy of shade, with the upper canopy comprising trees such as ficus, albizzia, cedrela toona and javanica. The Estate has fully integrated facilities for coffee processing, with on-site pulp houses and curing works. Fourteen perennial springs on the Estate ensure that the washed Arabica and Robusta grades are both of the highest standard. With all their coffees, the emphasis for Kelagur Heights Estate has always been on sustainability under the expert guidance of the Central Coffee Research Institute (CCRI) of India and this particular variety is a hybrid developed in conjunction with them. Developed ostensibly to be disease resistant and sustainable, these varieties are from a specific gene bank developed by the CCRI in India. Kelagur Coffee has won the Flavour of India Fine Cup Award for Arabica in the past for its focus on quality.
We have 10 unique lots that have just landed and are available now, including a very tasty pulped natural Robusta.
Please ask your account manager for availability and samples.
Have a great June,
The Bennetts Team.